To provide an accurate estimate for dubbing costs, we require a thorough assessment of your content. These costs are influenced by various factors, including the source and target languages, the complexity of the subject matter, the number of speakers involved, and the rate of speech.
What dubbing package is right for me?
Dubbing video is a complicated process involving dozens of people. Our solutions are tailored to content creators, businesses and entertainers seeking a value-for-money service that meets your needs.
Watch our video series to learn more.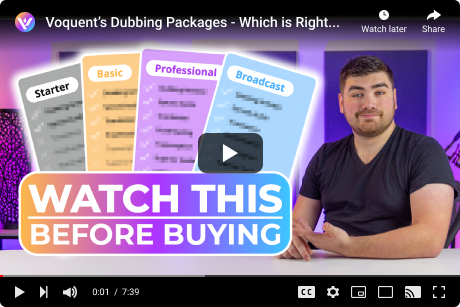 Broadcast
Recommended for Premium Quality entertainment
The broadcast package offers a film-quality dubbing service, including an experienced dubbing director to assist with casting, script preparation, captioning, and additional quality assurance. We also offer packages which include a dozen voices for TV series. Ask our team about them in your consultation.
Professional
Recommended for High-Quality Content
The Professional tier is our most popular dubbing solution. It is ideal for anyone seeking the most hands-off service with highly accurate translations and premium-quality recording and production services. You'll get a final dub that your audience will love.
Basic
The Starter Package with Improved Translations
The Basic package includes everything in Starter, but our linguists will proofread and edit the translations before recording. Basic is ideal for content creators who want accurate translations and human dubbing but don't need top-tier audio production.
Starter
A Viable AI Alternative
Test the waters with our Starter Package. You provide the transcript, and we'll take it from there. While we recommend getting translations proofread before recording, we can proceed without it if you're okay with potential translation errors. We'll record, use AI tools to replace the existing voice if needed, and seamlessly integrate the dubbed audio into your videos.